1) Sika Multigard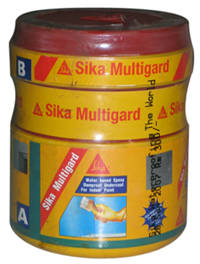 Sika Multigard is a water based breathable epoxy undercoat for indoor paints.

2) Application Area
| | |
| --- | --- |
| | Can be applied on absolutely damp surfaces without peeling off." |
| | Used as a undercoat for wall putty/paint on internal damp patches on walls etc. |
| | Can be applied on concrete, stone, plaster, rendering, etc. |

3) Features
For indoor application only.

No solvent. No fire hazard.

Breathing out characteristics allows entraped moisture to breathe out through the coating.

Excellent finish in base white colour.

No sagging in vertical application.

Can be stained with good quality water based stainer for light shades to match the
background colour in case no overcoat of paint is to be applied.

Overcoat of Sika® Wall Decor or wall putty can be applied before painting once the
entrapped moisture breathes out.

3) Dosage
Approximately one pack of 600gms covers 20sq ft for 2 coats.
Enquiry for Sika Multigard